Why Join the Knights of Columbus?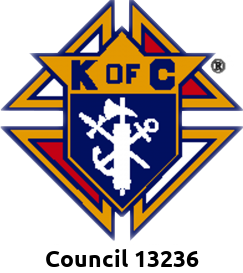 The Knights of Columbus are a worldwide band of brothers dedicated to doing good in the service of God, our parish, and our community.
If you're interested in camaraderie with like-minded Catholic men, serving our parish, helping those in need, growing in your faith, and having exclusive access to top-rated insurance protection for your family, then you should join the Knights of Columbus Council 13236!
As a practical (practicing) Catholic man, age 18 or older, you are eligible and invited to join our council. Click HERE to find out more or speak with a brother knight about joining our council.
FAQs About Becoming a Knight
How much time will it require?
As a Knight, you will have opportunities to become involved in numerous council programs, volunteer opportunities, and fellowship events with brother knights. There is no requirement concerning the amount of time you spend or number of activities you become involved in; however, the more active and involved you are, the better for you and for our parish!
How often are the meetings?
Our council meets monthly at 7:00 pm on the first Thursday of the month.
How long are the meetings?
Our monthly meetings usually last about an hour or slightly longer, varying in length depending on the business to be covered. At the end of each meeting, we have the opportunity to informally meet and get to know our fellow knights.
Who can attend meetings?
Only active Knights – First Degree or higher – are allowed to attend the monthly meetings.
What's the cost of being a Knight?
To be an active member of the Knights of Columbus, you'll pay $30 annual dues at the beginning of each calendar year. When you first become a Knight, the annual dues will be pro-rated based on the date you join.
What are "Degrees"
There are four "degrees" (levels of exemplification) within the Knights of Columbus. Each degree ceremony imparts a lesson on the Order's core virtues of Charity, Unity, Fraternity and Patriotism.
What insurance is available?
The Knights of Columbus offers life insurance and long-term care insurance for our members. K of C insurance products are competitively priced, and are among the most solid and highest rated insurance products available. In fact, Standard & Poor's and A.M. Best, leading independent rating agencies, give K of C insurance their highest ratings.
Am I required to purchase insurance to become a Knight?
Not at all! Purchasing insurance is entirely optional, and unlike many fraternal organizations, absolutely no purchase is required to become a Knight. In fact, you can only purchase insurance after you have joined, not before.