Insurance and Financial Services
Affordable Protection for Catholic Families
The Knights of Columbus offers a complete portfolio of top-quality insurance products to our members and their eligible family members.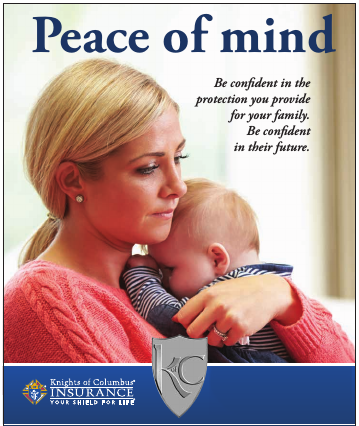 Permanent Life Insurance
– Insure Your Life for Life
Term Life Insurance
– Affordable Protection for Temporary Needs
Retirement Annuities
– A Guaranteed Paycheck for the Rest of Your Life.
Long-Term Care Insurance
– Protect Your Assets. Prepare for the Future.
Disability Income Insurance
– Shield Your Income from Illness and Injury
The Knights of Columbus also offers Family Fraternal Benefits that can help our members facing unique needs. Many of these benefits are unique to the Knights of Columbus and some are free. These benefits include: guaranteed life insurance benefits for uninsurable children; death benefits available for stillborn or miscarried children; orphan benefits; and member/spouse accidental death benefits.
Personalized Services
A Comprehensive, Complimentary Financial Analysis
The Knights of Columbus provides members a complimentary insurance and retirement needs analysis through their local field agent. Our agents – who are also brother Knights – use "Profiles & Forecaster," a proven industry analytical tool that helps our members identify their risks and goals.
End-of-Life Planning
The Knights of Columbus Personal Planning Workbook is a no-cost tool available exclusively through your Knights of Columbus field agent. This 34-page book is a comprehensive planning guide that will enable you to record personal information, identify personal wishes, and supplement legal documents.