Brother Sir Knight George "Coach" Kennedy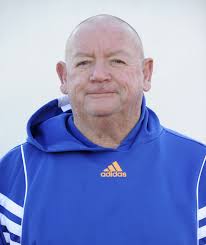 Coach George James Kennedy, Jr, 71, of Greensboro, NC, passed away Wednesday, November 23rd, 2016 at Moses Cone Hospital. Visitation was held on Monday, November 28th from 6 to 8 p.m. at St. Paul the Apostle Catholic Church, 2715 Horse Pen Creek Road, Greensboro, NC. A funeral mass was held 11:00 a.m. on Tuesday, November 29th, 2016 at St. Paul the Apostle Catholic Church. Interment was in the church Columbarium. In lieu of flowers, the family kindly requested donations to be made to St. Paul the Apostle Catholic Church, 2715 Horse Pen Creek Road, Greensboro, NC 27410.
George is survived by his wife of 49 years, Janice and his three children, son Patrick (wife Megan) of Arlington, VA, daughter Nancy Ogden (husband CDR Tom Ogden, USN) of Honolulu, HI, and son Brian Kennedy (fiance Jennifer Barbera) of San Francisco, CA, sisters Cathy Wombaugh (husband Norm) of Langhorne, PA, Linda Morrin (husband Steve) of Morrisville, PA, Maryanne Kennedy (husband Richard Regan) of Bonita Springs, FL, Fran Kennedy (deceased husband Brian Smith) of San Diego, CA, Regina Kennedy of CT, Madelene Wiemert (husband Tom) of Langhorne, PA, and brother Matt Kennedy of Des Moines, IA. Also surviving are five grandchildren, Noah Ogden, Taylor Madeline Ogden, William John Kennedy, Connor James Kennedy and Charlotte Anne Kennedy. He was a loving brother, father and husband and his legacy will live on.
---
Brother Sir Knight Vincent "Vince" Tamburro
Vincent "Vince" Tamburro of Greensboro, 91, formerly of Hawthorne, New Jersey, passed from his earthly life to his eternal life on Thursday, December 29, 2016 in his home surrounded by many of his loving family.
Vince, loving husband and dedicated father, grandfather and great-grandfather was born in Paterson, New Jersey on September 11, 1925 to the late Louis & Victoria Tamburro. He was a decorated U.S. Army WW II veteran and fought in the Battle of the Bulge. During his military service, he received a Bronze Star and other honorary medals. After serving his country, he joined his father in the family plumbing business. Vince was very talented with his hands and could figure out how to fix just about anything.
A devout Catholic, he was actively involved with St. Paul the Apostle Church, Greensboro, NC volunteering countless hours as well as a member of the Maintenance Staff. Prior to his move to Greensboro, Vince & his wife Helen were members of St Anthony's Catholic Church, Hawthorne, NJ where Vince was the Chairman of the Building & Grounds Committee and member of the Knights of Columbus Council 5920 where he served as Grand Knight and was a Fourth Degree Knight.
Vince always stressed the importance of family and loved spending quality time with his family, especially weekly family Sunday dinners and family beach trips. He is preceded in death by his loving wife, Helen, his parents and his sister Anna DeBenedetto.
Vince is survived by his loving and devoted children and their families, Vincent and wife, Janet and their son Vincent E of Wanaque, NJ.; Louis and partner Rosemary Baughn of Pennington, NJ, former wife Judy Tamburro of Franklin Lakes, NJ and son Dan and fiancé Shannon Savisky of Milford, CT; Patricia O'Shea and husband Mike of Graham, NC, and their daughters Terri LaRusso, husband Jason and daughters Madelyn and Elaina of Saxapahaw, NC, Sharon and fiancé Darryl Hilton of Graham, NC and Karlene of High Point, NC.; Gary, wife, Barbara of Hawthorne, NJ. and her children, Jessica Schneider of Hoboken, NJ and Tommy Schneider of Long Island, NY; Victor, wife, Margaret and their children Kyle, Carley, Christopher and Kimberly of Hawthorne, NJ and Regina Parsells, husband, Pete of Greensboro, NC and their children Matthew and wife Malori of Oak Ridge, NC, Mark and wife Katie and daughter Harper of High Point, NC and Michelle and fiancé Douglas Steffens of Greensboro, NC. He is also survived by sister Lucille Rampi of Orlando, FL, brothers Angelo & Louis Tamburro of Florida and many loving nieces and nephews.
The family received friends on January 9, 2017 at St. Paul the Apostle Catholic Church, 2715 Horse Pen Creek Road, Greensboro, NC from 10-11am with a Mass of Christian Burial at 11am. Inturnment in the columbarium followed Mass with a reception in Fellowship Hall. In lieu of flowers, memorial donations were asked to be made to St. Paul the Apostle Catholic Church, Capital Repairs, 2715 Horse Pen Creek Road, Greensboro, NC 27410 or Hospice and Palliative Care of Greensboro, 2500 Summit Avenue, Greensboro, NC 27405.